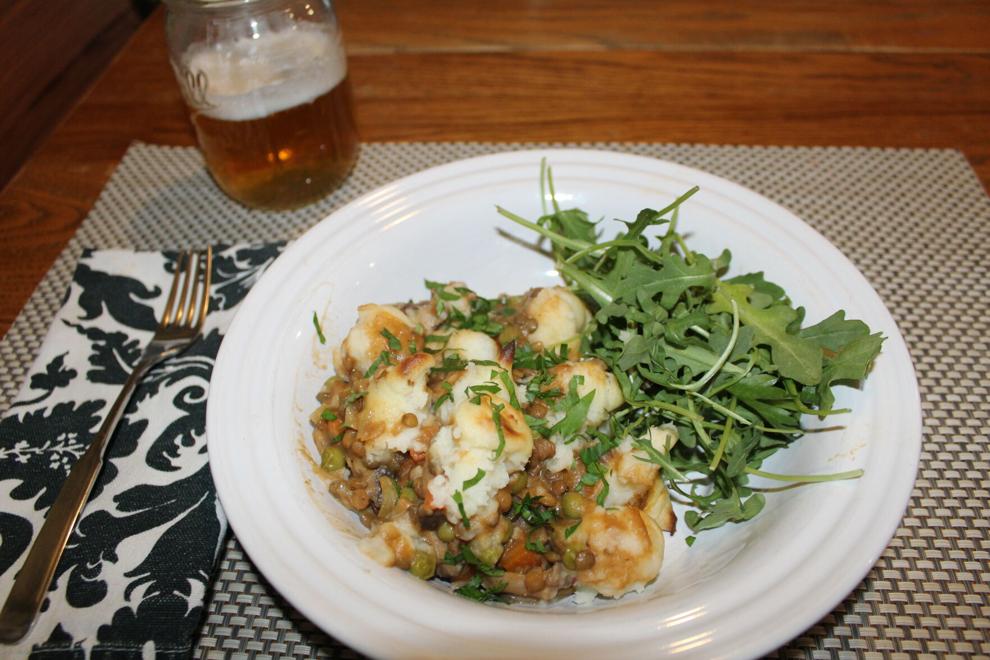 Some holidays have built-in dishes that accompany them. Thanksgiving has turkey, stuffing and cranberry sauce. The Fourth of July has burgers and hot dogs. st. Patrick's Day has corned beef and cabbage.
What's interesting is that corned beef and cabbage is actually more of an Irish American dish than something you would find simmering away in a kitchen in Cork. It is similar to Americans' relationship with burritos. Those wonderful handheld meals wrapped in a giant flour tortilla do originate from Mexican cuisine, but they are much more prevalent here than south of the border.
But I digress. My point is that corned beef and cabbage is great, but not necessarily the culinary icon of Ireland (check out this great Smithsonian article about Ireland's history with corned beef).
I am not an expert in Irish cooking. I've never even visited the Emerald Isle. The closest I have come to the rolling hills of Ireland was a year studying abroad on the southern coast of Great Britain.
Although I somehow never crossed the Irish Sea to drink Guinness in Dublin, I did visit many British pubs. Pubs are the cultural centers of the community throughout the two islands. Pubs are not just bars, but family gathering places where friends meet, watch sports and eat meals. My favorite thing to order (besides beer and cider) was always a bowl of steaming shepherd's or cottage pie.
Over the years, I have made this fairly simple dish many times using many types of ground meat from beef to lamb to venison as the pie filling. They are all wonderful but this time I wanted to try to make a vegetarian version using a mix of mushrooms as a meat substitute.
I found one recipe on The New York Times Cooking that paired mushrooms with French lentils to make a hearty filling for the Irish delicacy and it turned out amazing.
This version of Shepherd's pie is my new favorite. So much so that I may never make this dish with meat again.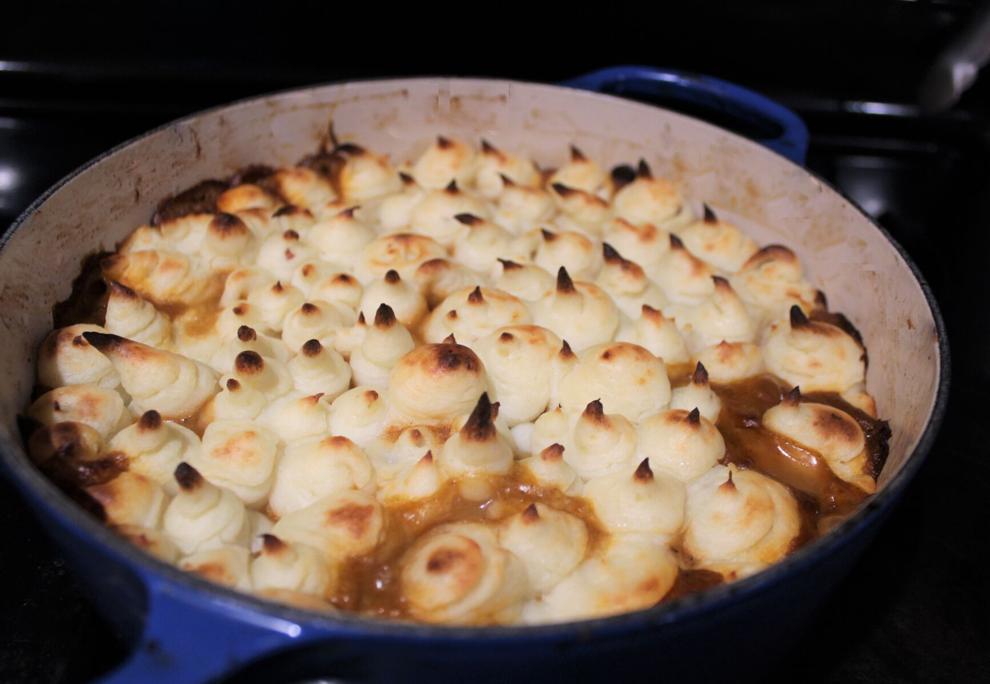 MUSHROOM SHEPHERD'S PIE
Serves 4
(Adapted from The New York Times)
INGREDIENTS
Topping:
1 1/2 pounds red potatoes, peeled and quartered
4 tablespoons unsalted butter
1/3 cup whole milk
1/3 cup sour cream
Filling:
1/2 cup French lentils
3 cups vegetable broth
1 teaspoon kosher salt, plus more for seasoning
2 tablespoons butter
2 tablespoons olive oil
8 ounces sliced ​​mixed mushrooms (I used shitake, oyster and white buttons)
1/2 yellow onion, sliced ​​thin
2 carrots, peeled and diced
4 cloves garlic, minced
1 tablespoon poultry seasoning
1 tablespoons ketchup
2 tablespoons flour
3/4 cup frozen peas
2 tablespoons parsley, finely chopped
2 teaspoons fresh lemon juice
Salt and pepper
DIRECTIONS
Topping:
In a large pot, put potatoes, a heavy pinch of salt and enough water to cover by at least 2 inches. Bring to a boil over high heat and put down to simmer. Cook until the potatoes are soft but hold their shape and are not mushy.
Filling:
While the potatoes cook, using a medium Dutch oven or high-sided skillet, bring 1 1/2 cups of the broth and French lentils to a boil. Reduce the heat and continue to a simmer, partially cover and cook the lentils until they are tender but not mushy. Almost all of the liquid should be absorbed, about 20 minutes. Transfer the lentils to a bowl.
In the same skillet, melt the 2 tablespoons of butter and olive oil. Saute mushrooms with onions on medium-high heat. Cook until both the mushrooms and onions begin to caramelize stirring often, about 8 to 10 minutes. Reduce the heat to medium and add carrots and garlic. Cook for another 10 minutes. Season with poultry seasoning and to taste with salt and pepper. Add ketchup and cook for another minute. Sprinkle flour over the mixture, stir and cook for an additional 1 minute. Add remaining 1 1/2 cups broth, cooked lentils and peas, and cook until thickened. Stir in parsley and lemon juice to taste.
In a small saucepan or a microwave oven, heat 4 tablespoons of the butter and milk together until butter melts. Drain potatoes well and return to pot. Using a masher or a ricer, mash hot potatoes until smooth. Mix in the hot butter mixture and sour cream just until blended. Season to taste with salt and pepper. Cover and set aside.
Preheat oven to 375 F. Top the mushroom-lentil mixture with dollops of the mashed potatoes. I piped my potatoes on top but spreading them out over the top works just as well. (Or transfer the lentil mixture to a 3-quart casserole dish and spread into an even layer, and top with potatoes.) Sprinkle with the remaining Parmigiano. Transfer to the 375 F oven and bake the pie until the potatoes have begun to brown and the edges are bubbling, about 35 minutes. Let stand at room temperature for 15 minutes before serving.
Lukas Southard is The Eagle's newsletter manager. Prior to joining The Eagle, he was a chef in California and New York City, a whole-animal butcher and a trained sommelier.
.